Webster's American English Dictionary, Expanded Edition
---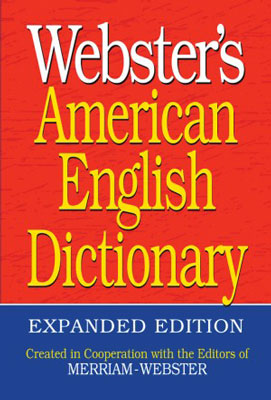 Created in Cooperation with the Editors of Merriam-Webster
Suggested Retail: $5.49
ISBN: 978-1-59695-154-9
Format: Trade Paperback
Trim Size: 5 1/8 x 7 5/8
Pages: 512
Illustrations: NA
Available: Now
Carton count: 24
Description
Webster's American English Dictionary, Expanded Edition
This new edition provides definitions, pronunciations and variant spellings for the words that make up the core of the English language. Special sections provide useful information for readers and writers.
Features of this Book
40,000 clear, concise definitions
Common abbreviations
Special sections include:
– Biographical Names
– Geographical Names
– English Word Roots
– Basic English Grammar
About the Editors
ABOUT THE EDITORS OF MERRIAM-WEBSTER The editors of Merriam-Webster have been creating dictionaries and other language reference works to the highest standards of quality and reliability since 1847.