Webster's Contemporary School & Office Thesaurus
---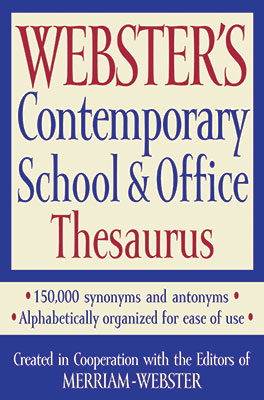 Created in Cooperation with the Editors of Merriam-Webster
Suggested Retail: $7.98
ISBN: 978-1-59695-048-1
Format: Trade Paperback
Trim Size: 5 1/2 x 8 1/4
Pages: 688
Illustrations: None
Available: Now
Carton count: 12
Description
Make Your Words Count!
This portable paperback thesaurus is an indispensable resource. Tens of thousands of synonyms and antonyms with plentiful examples of words used in context make it easy to choose the right words to express an idea or make a point clearly.
Features of this Book
More than 150,000 synonyms, antonyms and related words
Entries include core meanings common to all listed synonyms
Thousands of usage examples clarify meaning
Alphabetical organization makes lookups easy
Convenient trade paperback format
About the Editors
ABOUT THE EDITORS OF MERRIAM-WEBSTER The editors of Merriam-Webster have been creating dictionaries and other language reference works to the highest standards of quality and reliability since 1847.