Webster's Contemporary Spanish-English Dictionary
---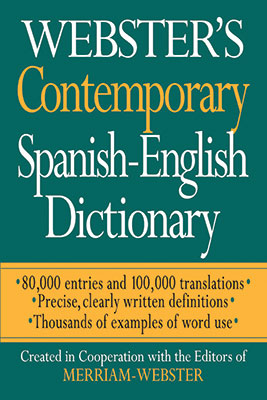 Created in Cooperation with the Editors of Merriam-Webster
Suggested Retail: $7.98
ISBN: 978-1-59695-055-9
Format: Trade Paperback
Trim Size: 5 1/2 x 8 1/4
Pages: 800
Illustrations: None
Available: Now
Carton count: 12
Description
A Comprehensive Bilingual Dictionary
This essential volume covers the core vocabulary of American English and of Latin-American Spanish.
It is ideal for those who need to speak and write effectively in Spanish and English as they are used today. Teachers and learners, travelers and business people at all skill levels agree that this is the best Spanish-English dictionary for their needs.
Features of this Book
More than 80,000 words and phrases with over 100,000 translations
Bidirectional Spanish to English and English to Spanish
Spanish terminology and idioms unique to Central and South America
Clearly written definitions make this dictionary accessible to all skill levels
Thousands of examples of words and phrases in context clarify the subtle distinctions between similar words and show how to use them properly
Special sections cover Spanish grammar and conjugation of Spanish verbs
About the Editors
ABOUT THE EDITORS OF MERRIAM-WEBSTER The editors of Merriam-Webster have been creating dictionaries and other language reference works to the highest standards of quality and reliability since 1847.