Webster's Dictionary for Students, Special Encyclopedic Edition, Fifth Edition
---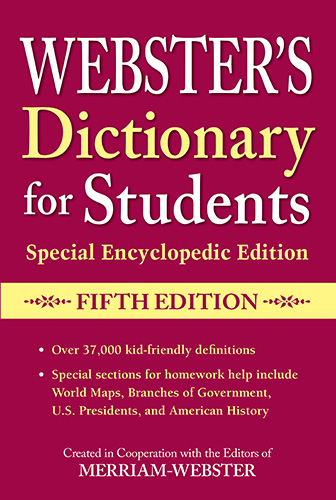 Created in Cooperation with the Editors of Merriam-Webster
Suggested Retail: $5.49
ISBN: 978-1-59695-168-6
Format: Trade Paperback
Trim Size: 5 1/8 x 7 5/8
Pages: 544
Illustrations: N/A
Available: Now
Carton count: 24
Description
Our Best-Selling Dictionary for Students!
This updated and expanded dictionary was created for students in grades 3-6. It contains all the elements of Webster's Dictionary for Students, Fifth Edition plus a special encyclopedic section that is chock-full of fascinating information about the world around us. Both the dictionary and encyclopedic section have been fully updated.
*Over 37,000 kid -friendly definitions
*Special sections for homework help include World Maps, Branches of Government, U.S. Presidents, and American History
*Completely revised & updated with words kids need to know now
*North American edition contains Canadian words and spellings
*37,000 definitions written in clear, easy-to-understand language
*Special Encyclopedic sections includes:
World Maps
Countries of the World
States of the United States
Declaration of Independence
Important Events in American History
Presidents of the United States
About the Editors
ABOUT THE EDITORS OF MERRIAM-WEBSTER The editors of Merriam-Webster have been creating dictionaries and other language reference works to the highest standards of quality and reliability since 1847.