Webster's New Explorer Large Print Dictionary, Third Edition
---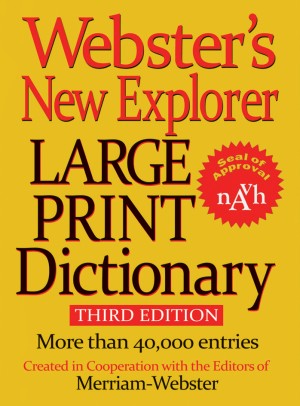 Created in Cooperation with the Editors of Merriam-Webster
Suggested Retail: $14.98
ISBN: 978-1-59695-146-4
Format: Hardcover
Trim Size: 7 1/2 x 9 1/4
Pages: 768
Illustrations: None
Available: Now
Carton count: 8
Description
Webster's New Explorer Large Print Dictionary, Third Edition
This dictionary is an excellent resource for people of any age who require of prefer large print. Developed in conjunction with the National Association for Visually Handicapped, the pioneer standard setting agency for large print publications, it is ideal for use at home and is also an effective tool in the classroom.
Features of this Book
This new edition features a fascinating article on how new words enter the dictionary.
Other features of this book include:
*Over 40,000 words and phrases
*Large, easy-to-read type
*Entries include part of speech, pronunciation and alternative spellings
About the Editors
ABOUT THE EDITORS OF MERRIAM-WEBSTER The editors of Merriam-Webster have been creating dictionaries and other language reference works to the highest standards of quality and reliability since 1847.