Webster's New Explorer Thesaurus
---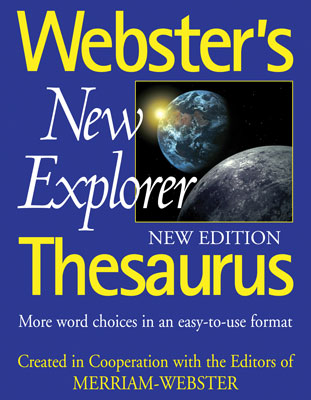 Created in Cooperation with the Editors of Merriam-Webster
Suggested Retail: $12.98
ISBN: 978-1-892859-77-8
Format: Hardcover
Trim Size: 7 1/4 x 9 1/4
Pages: 688
Illustrations: NA
Available: Now
Carton count: 10
Description
Finding the "Right Word" Just Got Easier
Finding just the right word to describe an event or object, an idea or emotion can be difficult for even the best writer. This up-to-date and easy-to-use thesaurus is an indispensable reference tool for anyone who needs to effectively convey information in speech or writing.
Features of this Book
The all-new content includes more than 150,000 synonyms, related words, antonyms, and near antonyms
Each main entry states the "core meaning" that all synonyms share and an example of the word used in a phrase or sentence
Alphabetical arrangement of entries makes lookups easy
About the Editors
ABOUT THE EDITORS OF MERRIAM-WEBSTER The editors of Merriam-Webster have been creating dictionaries and other language reference works to the highest standards of quality and reliability since 1847.