Webster's New Explorer Vocabulary Skill Builder
---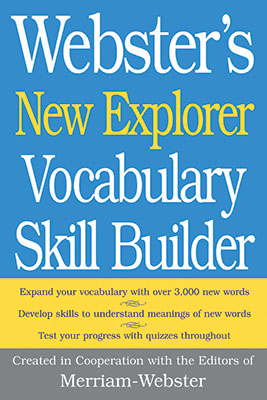 Created in Cooperation with the Editors of Merriam-Webster
Suggested Retail: $9.98
ISBN: 978-1-59695-045-0
Format: Hardcover
Trim Size: 5 1/2 x 8 1/4
Pages: 576
Illustrations: None
Available: Now
Carton count: 12
Description
Vocabulary the Fun, Easy Way
This volume is designed to enhance reading comprehension and communications skills in students of all ages. Most of the words we use in our daily lives come from Greek and Latin roots. Two hundred root words and 3,000 common English words that are derived from them are covered here. Fun and challenging quizzes in each section test progress.
Features of this Book
25 lessons introduce more than 3,000 new words
Lessons feature 200 Greek and Latin words that are the roots of most common English words
Definitions, pronunciation, and usage examples accompany each new word
Hundreds of quizzes test your progress
Excellent prep tool for the SAT
About the Editors
ABOUT THE EDITORS OF MERRIAM-WEBSTER The editors of Merriam-Webster have been creating dictionaries and other language reference works to the highest standards of quality and reliability since 1847.