Webster's Notebook Dictionary
---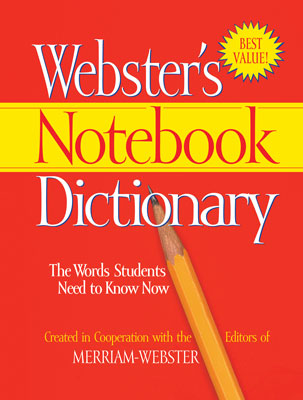 Created in Cooperation with the Editors of Merriam-Webster
Suggested Retail: $2.99
ISBN: 978-1-59695-056-6
Format: Trade Paperback
Trim Size: 8 1/2 x 10 7/8
Pages: 80
Illustrations: NA
Available: Now
Carton count: 24
Description
A Quality Notebook Dictionary at a Great Price!
This new notebook dictionary features clear, concise definitions of the words students need to know in an easy-to-read page design. Authoritative and up-to-date, this handy dictionary is 3 hole punched to fit into a binder for easy access at home or at school.
Features of this Book
More than 20,000 entries
3 hole punched to fit into any binder
Special sections on

Basic English Grammar
Abbreviations
10 General Spelling Rules
10 Rules for Forming Plurals
About the Editors
ABOUT THE EDITORS OF MERRIAM-WEBSTER The editors of Merriam-Webster have been creating dictionaries and other language reference works to the highest standards of quality and reliability since 1847.